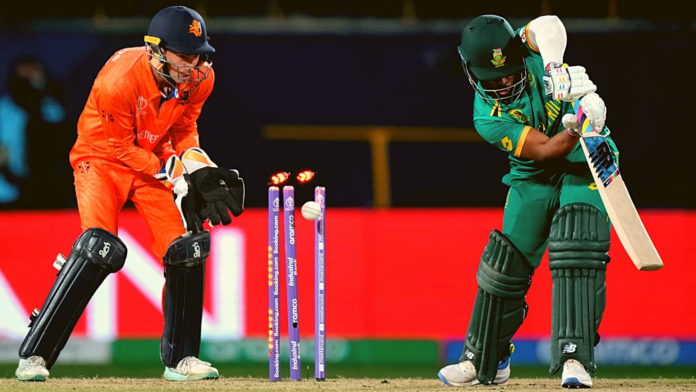 Dharamsala: All-rounder Roelof van der Merwe had stressed ahead of the game that facing his former national side South Africa 'dragged the same weight for him' as playing any other team at the World Cup. But on Tuesday, that barely looked the case as soon as he was done bowling his first delivery. A wide-arm slider angled in from round the wicket left Proteas skipper Temba Bavuma's middle and leg stumps toppled. Van der Merwe's joyous scream could be heard reverberating around the HPCA Stadium.
Most of the 10,000-plus crowd in the stands seemed to be behind the Men in Orange, perhaps with some foresight of what was to follow. A night that saw the Dutch upsetting the Proteas at a Cricket World Cup for the second time in less than a year with a 38-run margin. The Netherlands, who were reduced to 82/5 and later 140/7, managed to reach 245 in 43 overs in the rain-reduced encounter, before bundling out South Africa for 207.
For Van der Merwe, whose decibel levels only got higher as the Dutch turned the screws, it was a night of closure. Twelve years ago, he'd missed out on playing in an ODI World Cup in the subcontinent for South Africa. That opportunity – a second go at the dream of playing in the sport's marquee tournament – would finally come in 2023. At the age of 38, following a switch of allegiance from his motherland to his mother's land. That he was a key protagonist in scripting Tuesday's win – with both bat and ball – only felt fitting. But he wasn't the only Dutch hero on the night.
For Paul van Meekeren, who cleaned up Aiden Markram soon after van der Merwe had castled Bavuma, it was an evening of living up to his word. Ahead of the competition, when asked what the expectations were within the group going into the 10-team tournament as the only associate member, he'd proclaim, "We're here to cause chaos."

Also causing chaos was Logan van Beek, who finished with the best bowling figures on the night, and had his own moment of fulfillment at the world stage. The Christchurch- born all-rounder was also forced to relocate from his country of birth to fulfill a World Cup dream.
He wasn't the first Van Beek to change colors in international cricket. Logan's grandfather Sammy Guillen had played three Tests for New Zealand having started his cricket career with the West Indies. Against South Africa, his grandson would be the first in the family to claim a World Cup win.
It was van Beek who'd remove the final hurdles in the Dutch path by dismissing both Heinrich Klaasen and David Miller, who were counter-attacking after an early flurry of wickets. A short one to Klaasen – which he hit straight to the fielder at fine leg – was followed by a delivery in Miller's arc which a swipe missed. And his third strike saw Keshav Maharaj skying the ball straight to wicketkeeper-captain Scott Edwards to cap off a memorable evening for Dutch cricket. Perhaps even more so than the one they had in Adelaide last year.
While the T20 World Cup win against the same opposition in Australia was a big outcome in itself, the Netherlands' besting South Africa in the 50-overs tournament holds more weight, given the requirements of the format. On the eve of the game, Proteas captain Temba Bavuma would emphasise that while his team remembered the result from last year, ODIs required 'more consistency' for teams to pull off something similar.
Responding to his comments, Netherlands head coach Ryan Cook stated, "The 50 overs is a format that we pride ourselves a lot in. It's a format that we play a lot. We don't play Tests, and not a lot of T20s. We understand the consistencies that come with playing 50-over cricket for a long time."
Less than 24 hours later, as he joined his players in post-match celebrations, they'd proved their coach right.
Skipper Edwards, who was also the Player of the match and is known for being a man of few words, would emphasise again that his team was not satisfied with one-off wins and was not here to just make up the numbers. "We came into the tournament where we wanted to have a chance in the semi-finals and if you want to do that you have got to beat teams, and South Africa are one of the favourites the way they are playing."
Facing the Netherlands next will be Sri Lanka, who have lost three in a row at the start of their campaign. As they look for their first win at this World Cup, they would take the Dutch lightly at their own peril.
.